Skip to Content
Become a Certified Bartender in as Little as Two Weeks!
Midwest Bartenders School, established in 1993, is a fully accredited school by The Commission on Proprietary Education and a Member of the Better Business Bureau. You will receive your certification in as little as two weeks of training with our industry experts. Ask us about our accelerated program.
We offer day, evening, and weekend classes. Our classes are flexible to accommodate your busy schedule. It is imperative that bartenders learn about alcohol laws, name brand products, health department regulations, and customer service skills. All of these will lead to your success in your new career.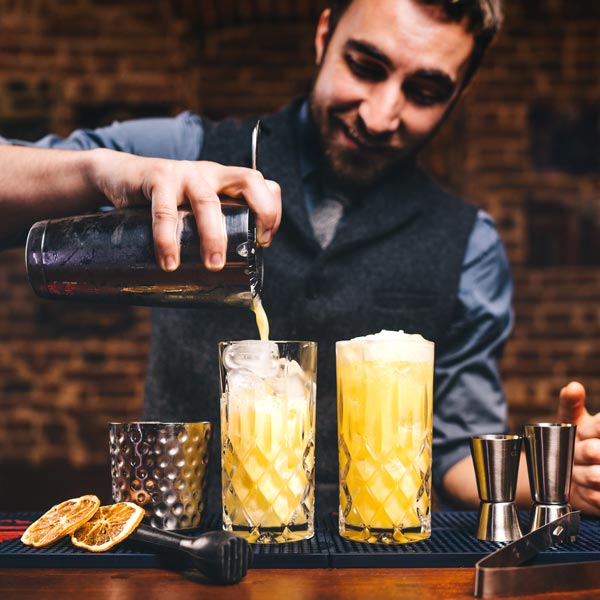 Professional Mixology Course
Mixology is the art of mixing alcoholic drinks that are well-balanced, have great taste, and can be spoken about at great length. This course will also teach the daily operations of a general bar area in full-service restaurants, lounges, clubs, hotels, and other hospitality establishments. Our class outline includes, but is not limited to:
Top mixed drinks nationwide
Accurate free pouring
Liquor, Beer, and Wine classifications and their sub-categories
Indiana liquor laws
Glassware, garnish, and mixing rules
Proper presentation
Nationwide Job Placement Assistance Program
Advanced Mixology
This class will dive deeper into the art of mixology. We discuss the Prohibition era of the United States which greatly influenced cocktails and the bartending industry. Learn about almost forgotten cocktails, modern techniques, and how to properly blend the two for a personal experience. Here is the outline of the class:
Master the art of bartending
Learn Pre-Prohibition era cocktails
Create craft cocktails
Understanding exotic liquors and liqueurs
Unique and rare mixers
Advanced mixing techniques
Flairtending
We will teach you the tricks of the trade. You'll be able to perform tricks that will make you the life of the party. These skills make you a more exciting bartender and greatly help in putting on a show which will add to your tip jar:
Flair for the working bartender
Competition Flair
Showmanship
Exhibition Flair
Vino 101
This online class can be taken at your convenience and requires no in class time. We cover wine terms, their meanings, and will help you be able to describe their smell and taste. You'll be able to work with novices and the most sophisticated wine drinker. Here's what else you can expect from the class
Explain tasting notes
Describe nosing
Learn proper and professional presentation
Utilized proper glassware
Proper pouring techniques
Know various varitals & major wine producing regions
Bar Management
If you are interested in owning a bar, managing a neighborhood or commercial bar, or managing bar tops for concerts, sporting events, weddings, or other short-term events, this is the class for you! This course covers:
Day-to-day operations on managing a bar
Inventory management
Loss prevention
Set up and break down portable bars
Avoid Health Dept. and Excise violations
Troubleshooting equipment problems
Staffing
Setting and maintaining bars
Be Prepared for Success After Courses at Midwest Bartenders School
The industry experts that teach our classes will ensure that you are ready to take on any bartending job as soon as you graduate! What's great about our classes is that they are less about reading, and more about engaging in hands-on experience. This helps you get prepared with the skills and the know-how to start making drinks immediately. We practice the actual application of mixology while teaching you about the classics and beer, spirits, and wine production. Call today to see how we can get your ready for a bartending career!
Become a Bartender Today at Midwest Bartenders School!